Products
At Creative Spaces, we trust in our Supplier. Organized Living supplies us with freedomRail and Classica branded closet components. They are a world leader in this space (yes pun intended). They provide cost-effective, elegant storage systems. Featuring true flexibility in design and features. Their "package" approach works well. It reduces the time required to outfit your storage space. All the components are made to strict factory specifications. They fit precisely and provide strength and beauty. Their components are complementary. They work perfectly with each other. This allows us to meet your personal desires.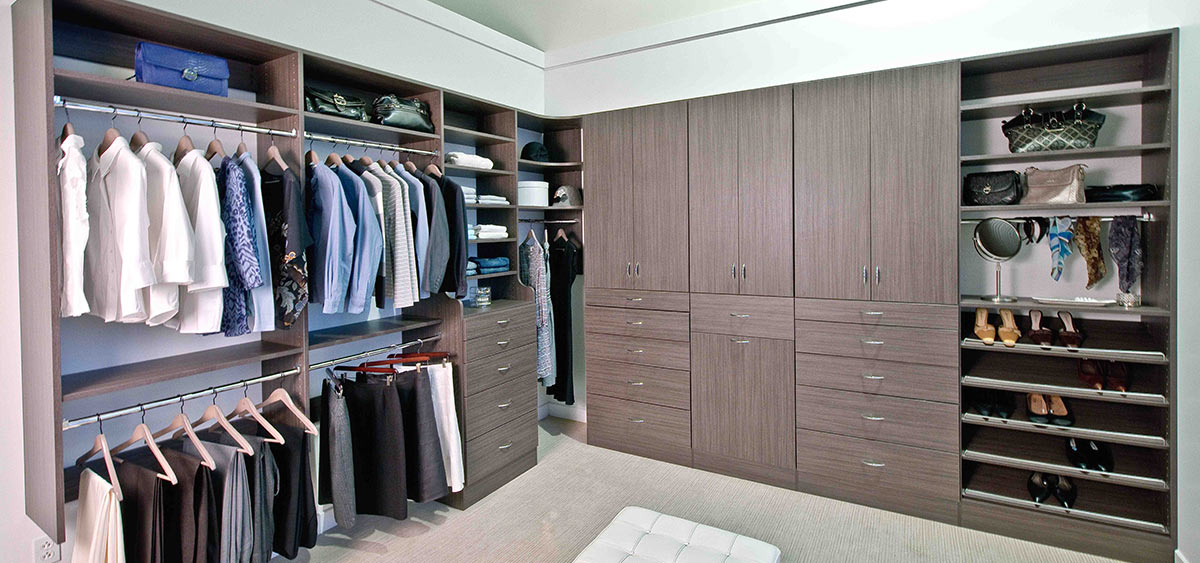 Want to maximize hanging space? Develop a closet that beautifully organizes all your items? freedomRail has the ability to meet your needs. All with true adjustability. Allowing you to re-configure your space as your needs change. Almost like having a closet constructed out of Lego. Without the danger of stepping on one in the middle of the night.
On the details side. Our mounting hardware is thicker and stronger than competitors'. Making our system an ideal solution for pantries, garages, and storage rooms. Areas where the weight of items can be substantial. We also offer unique storage options for hard-to-store items. Components come in several colour options to match your existing decor. From elegant oak to durable and cost-effective melamine. Our finishes will make your space truly stand out.
We also feature the Classica line for Organized Living. It provides a built-in cabinetry look. The ultimate in beauty with no exceptions. Turn your closet into a private retreat. Our panel system adds both exceptional functionality and value to your home. No details are spared in this system.
Closets
Closets come in all shapes and sizes. Some have doors, some do not. Some are walk-in, some are not. Some are for adults, some for children, some for brooms, or some for linen. Some are highly coveted some are virtually forgotten. Many can use some work on organization. That is where Creative Spaces shines. We love to add design and functionality to your closets. Give us a call to discuss your current state of closets and desired state. We can develop a proposal at no charge. We can even create a 3-D design drawing if that helps.
Our classic panel system offers:
3/4 inch panels and shelving providing more strength and the ability to support heavy items without sagging
Durable 2 & 3 mm front edge banding with superior aesthetics and chip resistance
Several color options to match your existing decor
Nearly endless options for accessories to neatly organize and store all your items – See our Accessories section
Full-extension ball bearing slides on drawers and pull out baskets
Nickel or chrome hardware and other specialty hardware colors are offered
Elegant, high-quality doors and drawer fronts
Laundry
Considering the function of the laundry room, our Timeless White organizers are perfectly suited. Bright white, easy-clean surfaces. Choice of chrome or white standards, baskets, bars, and racking. The vibe is clean. It will be one of the highlights you add to the visitors' home tour. Add a place to store your iron and ironing board or a concealed ironing board. Add racking for hang drying clothes or a flat surface for folding or flat drying. Some people live for laundry. If you are a laundry fanatic, we need to talk.
Pantry
Pantry comes from the French word for bread which is pain. According to Wikipedia. "A pantry is a room where beverages, food, and sometimes dishes, household cleaning chemicals, linens, or provisions are stored." It is really the closet for the kitchen. It makes sense that Creative Spaces does pantries. We can design, provide and install storage systems for your pantry. When your pantry needs an intervention, give us a call. We have a recipe for a successful pantry.
Wire Shelving
Creative Spaces supplies and installs lots of wire shelving in and around Regina SK.  Homebuilders doing new construction. Contractors doing commercial construction and home renovations. Homeowners or landlords undergoing remodeling. Wire shelving is superior for dozens of applications. Bathrooms, closets, basements, pantries, or garages are all options. Call Creative Spaces today. We can provide a free estimate on installing wire shelving for you.
Garage
The generally accepted purpose of a garage is vehicle storage. Some people use it solely for the purpose. Those people are generally few and far between. The other end of the scale has people that store belongings in their garage. These people often have no room left to store vehicles in their garages. The majority of people strike a compromise. They store vehicles and belongings in their garages. Creative Spaces has attractive and durable storage solutions designed specifically for garages. Call us today for a consultation.